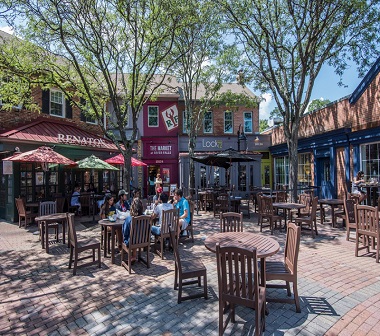 Homes for Sale in North Potomac, MD
It's not surprising why Money Inc. declared North Potomac the best place to live in Maryland. With its quintessential suburban vibe, great schools, top-notch subdivisions, and proximity to the beautiful Potomac River, this census-designated place has truly earned its recognition as the most sought-after address in the state.
Part of Montgomery County, MD, North Potomac is home to about 24,000 people. Its territory spans less than seven square miles, giving it a cozy small-town vibe despite being just half an hour away from the bustle of Washington, D.C.
Speaking of which, residents of North Potomac have easy access to the cultural wonders of the nation's capital. It also borders major cities and towns that offer a wealth of urban conveniences.
If you're keen on buying homes for sale in North Potomac, MD, here's what you need to know:
Why live in North Potomac, MD?
The Old Line State has no shortage of great places to live, but few can hold a candle to North Potomac. As you'll see below, there are more than enough reasons to call this place home.
Award-winning community
You know a place is worth moving to when it regularly receives plaudits from experts. As it happens, North Potomac is just such a place. Like Money Inc., Niche.com named the area the best place to live in Maryland and went one step further by ranking it the 13th best suburb in America to raise a family in. Wouldn't you want to be part of such a neighborhood in Montgomery County, MD, too?
Peace and quiet
If you've always wanted to live in a suburb where your family can enjoy a peaceful environment and laid-back living, North Potomac is a great match for you. There are over two dozen subdivisions here that offer tree-covered streets, beautiful homes, and expansive front yards — all hallmarks of an ideal suburban lifestyle.
Excellent schools
One of the reasons why North Potomac is highly attractive to families is its great schools. In fact, the locale's public schools earned a glowing A+ rating from Niche.com. Moreover, several of the top-rated schools in Maryland service the area, including Winston Churchill High School, Thomas S. Wootton High School, and Northwest High School. Renowned universities such as George Washington University and Georgetown University are likewise only a short drive away.
Easy access
North Potomac may be a suburb, but it's close to everything you could ever want or need. To begin with, it's about 20 miles away from D.C. and its historic landmarks and myriad job opportunities. Likewise, you're only a few minutes away by car from Darnestown, Gaithersburg, and Rockville, where you can find a plethora of dining, shopping, and entertainment options. And of course, you'll have easy access to the Potomac Heritage National Scenic Trail, a breathtaking hiking route that parallels the river.
A brief history of North Potomac, MD
Being part of Maryland makes North Potomac a city with deep historical roots. Indeed, time and circumstance have conspired to make this place one of the state's most desirable neighborhoods:
1608— Captain John Smith of England explores the Potomac River and discovers what is now known as Montgomery County, where North Potomac is located.
1688 — The first settlements in Montgomery County are established.
1800s — The land that would be called North Potomac is used for growing corn and tobacco.
1850 — The DuFief Mill is built, furthering the locale's agricultural production.
1920s to 1930s — During the Great Depression, many farmers sell their agricultural land to wealthy individuals, who use is it for hunting and horse-riding.
1970s — The U.S. Census Bureau classifies North Potomac as an unincorporated community within the Darnestown and Travilah areas.
1980s — Residential development accelerates and by the end of the decade, around 25 subdivisions spring up in North Potomac.
1989 — The name "North Potomac" is officially adopted by the area after the U.S. Postal Service approves it.
1990 — The Census Bureau follows suit shortly thereafter, listing North Potomac as a census-designated place.
Homes for Sale in North Potomac, MD
North Potomac's real estate market is bullish, with Realtor.com noting that average listing prices are up over 10% year-over-year. As such, homes for sale in North Potomac, MD typically command around $719,000.
The strong housing demand is largely driven by the pandemic, which saw people exit major metropolitan areas in favor of less crowded locales like North Potomac. Furthermore, buyers are looking for bigger houses that are more conducive to working and studying remotely.
As for the properties, most homes for sale in North Potomac, MD, fall into three categories:
Single-family homes
As you'd expect from a suburban neighborhood, single-family homes are the most prevalent and in-demand property in North Potomac. They embody the kind of home everyone dreams of: an immaculately landscaped front yard, spacious interiors ideal for growing families, and a modern kitchen that makes meal preparation a breeze. The typical single-family home has four bedrooms and two bathrooms, and measures around 2,000-2,500 square feet. Many properties are also situated on half-acre lots, giving you plenty of space to plant a garden or put in an outdoor entertaining space.
Townhomes
Want to own real estate in North Potomac but find single-family homes too expensive? Townhomes are the perfect alternative for you. These properties are multi-level homes built adjacent to each other, so you'll be sharing at least one wall with your neighbor. You won't have to worry about privacy, however, as each unit has a separate entrance. As per the best real estate agents in the regain, this property type is ideal for small families as well as empty-nesters looking to downsize. Townhomes usually have three bedrooms and two bathrooms, and have a floor space between 1,100 to 1,500 square feet. Most real estate home listings have an asking price in the mid-six figures, making them more attainable for buyers.
Undeveloped land
If none of the homes you view tick your checkboxes, why not build your dream home from scratch instead? While increasingly rare, undeveloped land in North Potomac is still available and offers you a blank slate. Such lots often measure over two acres and are usually located in secluded areas close to nature. The asking price varies greatly depending on the size, but expect to pay anywhere from $175,000 to $650,000.
What features can you expect from homes in North Potomac, MD?
Homes for sale in North Potomac, MD, reflect the state's history and geography. Since Maryland is one of the original colonies, properties here are heavily influenced by British colonial architecture and design. If you look at the real estate home listings, you're likely to encounter houses with these designs:
Cape Cod
These single-story structures are low and broad, and come with pitched gabled roofs and large chimneys. Brought to America by the Puritans, it's a New World interpretation of the traditional hall-and-parlor house from England, and was designed to help residents cope with New England's nippy winter weather. Other common design features include shingle-siding, double-hung windows, and quaint exterior decorations.
Craftsman
A product of the British Arts and Crafts Movement in the 1800s, Craftsman-style homes are the antithesis to the excesses of Victorian architecture. Focusing more on natural materials and simple design, these houses prioritize craftsmanship over showmanship, giving them a quaint charm that's easy to fall in love with. Triangular low-pitched roofs, exposed rafters, and tapered columns are among the hallmarks of this style.
Georgian
So-called because it flourished during the reign of three kings that all bore the name George, the Georgian style is renowned for its stately design reminiscent of English manors. This style is easily recognizable because of its rigid symmetry, use of brick or stone walls, and elaborate entrances with arches or columns. The sense of grandeur continues inside thanks to features like high ceilings, crown molding, and window headers.
Tudor
Another home inspired by English royalty, the Tudor style takes inspiration from Medieval and Early Renaissance architecture. Perhaps its most distinguishing feature is its lavish use of decorative half-timber work, which creates bold patterns on the external walls. You'll also often find features like steeply pitched roofs, multi-paned windows, large fireplaces, and elaborate chimneys.
Ranch style
Ranch-style properties capture the laid-back appeal of rural living. These single-story homes usually have an open floor plan and are built in a "U" or "L" shape. Dedicated patio space allows you to survey your property with ease and serves as an extension of your interior living space. While ranch-style properties often do not have a second floor, they usually have a finished basement.
Contemporary
Of course, there are also contemporary houses in North Potomac that exemplify the best of modern design. You'll usually see features like asymmetrical facades, open-floor layouts, and big windows that let in a lot of natural light. Likewise, they often incorporate the outdoors with the indoors, leading to a seamless marriage between nature and structure.
Niche.com classifies North Potomac as a suburban area and fittingly many of its residents are families who wish to put down their roots. This is further supported by the fact that the vast majority of locals own rather than rent their homes (84% vs. 16%).
North Potomac is considered a suburb of the greater Washington, D.C. area, so it's known for being a bedroom community. Hence, many people work in the nation's capital by day but return to the peaceful embrace of suburbia at night.
While there are certainly retirees in the area, the locale's population is fairly young, with an average age of around 43-44 years old.
Living in North Potomac, MD
The kind of house you choose is important, but the neighborhood it's located in is crucial as well. After all, the community determines the kind of lifestyle you and your family can enjoy. Fortunately, North Potomac, MD, is a place where quality of life is paramount. Here's what you can expect when you move here:
Cost of living
Needless to say, living in a premier community comes at a premium price. According to data from BestPlaces.net, the cost of living in North Potomac is about 64% higher than the national average. The primary factor driving up costs is housing, as homes for sale in North Potomac, MD, cost $719,000 — more than double the national median price of $359,000. Nevertheless, essentials such as groceries and utilities are reasonably priced, while healthcare costs are actually cheaper given the area's proximity to Shady Grove Hospital. Residents get a lot of value for their money, too, given the many parks that dot this community.
Employment
Long-time professionals and ambitious upstarts are both welcome in North Potomac. Given the locale's proximity to Washington, D.C., there is a world of job opportunities that await public servants, STEM professionals, educators, healthcare workers, and aviation professionals. Montgomery County, meanwhile, counts the National Institutes of Health, the U.S. Food and Drug Administration, Marriott International, Lockheed Martin, and Verizon among its top employers. North Potomac is also close to the North I-270 Technology Corridor, a hub with myriad companies in the tech and biotech space. As per Census.gov, the annual median household income for the area is about $171,000.
Schools
The students of North Potomac, MD, are served by the award-winning Montgomery County Public Schools (MCPS). Its goal is to provide holistic education to pupils so that they have the academic, creative problem-solving, and social-emotional skills they need to be successful not just in the classroom but also in life. The MCPS offers various programs for exceptional students, and many of its teachers have received the Excellence in Gifted and Talented Education Award. With a budget of $2.78 billion dollars, the school district is more than capable of providing quality education to learners of all ages. Proof of this is MCPS' impressive graduation rate of 89.3%. Thomas S. Wootton High School and Quince Orchard High School are among the top-rated institutions that serve the North Potomac area.
Transportation
Access means convenience, and North Potomac has both in spades. Interstate 270, which runs north to south, connects the area to Washington, D.C. via the Capital Beltway/Interstate 495. Interstate 370 and the Intercounty Connector (MD 200) toll road, meanwhile, links the community to the eastern section of the state. As a rural and suburban district, North Potomac is a commuter town. Fortunately, the good infrastructure and interconnected roads mean the average commute time is a very reasonable 35 minutes. If you prefer public transportation, however, you will be well served by the Washington Metropolitan Area Transit Authority's Metrorail system, whose red line has stops in nearby communities like Shady Grove, Rockville, and Twin Brook.
Lifestyle
Those looking for a suburban lifestyle will fit right into North Potomac. The community is largely composed of sprawling subdivisions that have safe streets, beautiful houses, and convenient amenities. Nature lovers will fall in love with this place, too, thanks to its proximity to Montgomery County Park System, whose Muddy Branch Greenway Trail directly passes through North Potomac. Individual neighborhoods such as Dufief also maintain their own parks, and often feature scenic trails where you can run or bike. Looking to stay fit and healthy? The Nancy H. Dacek North Potomac Recreation Center is a family-friendly venue that has a fitness room, gymnasium, basketball court, and two tennis courts. Indeed, you can enjoy a leisurely lifestyle when you live in North Potomac.
From its family-friendly environment, to its convenient location, to its high quality of life, North Potomac proves that moving to Maryland is a wise move indeed.
If you're looking at homes for sale in North Potomac, MD, allow Judy Martin, the best real estate agent in Montgomery County, MD, to be your real estate agent. With 29 years of experience in helping clients find their dream homes, she has the network, insight, and negotiation skills to help you sell your home, list your home, or find a property at the best price in the shortest amount of time.
For her, you are more than just a customer — you're a future neighbor. That's why she provides hands-on service and valuable advice every step of the way. Listening closely to your needs, time frames, and financial objectives, she goes the extra mile to ensure that you are 100% happy with the house you purchase. Just take a look at these glowing reviews from past clients:
I was a first-time homebuyer. Judy was patient and answered all my questions thoroughly. Most importantly, she was an advocate for me. I greatly appreciate all of her help, experience, and knowledge. — Jacqueline Schaeffer
Judy was a professional and met our needs! She made buying our first home smooth and enjoyable! We would definitely work with her again as our realtor! — C. Lewis
Judy was very responsive and was accessible with regard to seeing properties. She coordinated multiple times with the seller's agent and was very friendly. — Josh Bauer
To get your home search started, simply call 301.379.1700 or send an email to [email protected]. Judy will be more than happy to assist with any and all your real estate needs, be it buying, selling, or listing your home.

Sorry we are experiencing system issues. Please try again.