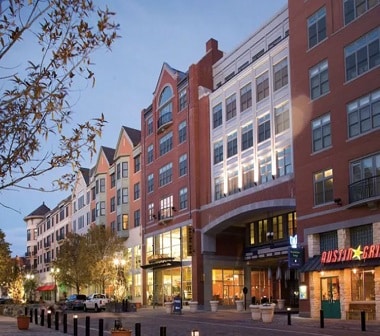 Discover Homes for Sale in Rockville, MD
For many people, selecting a home often comes down to urban convenience, job opportunities, and acceptable levels of peace and quiet. It's not easy to find all three in a neatly packaged deal, but that's an area where Rockville rocks.
A vibrant suburban environment and proximity to the nation's capital make Rockville, Maryland, a highly appealing city to live. Prospective homebuyers will be pleased to discover the plethora of urban and outdoor amenities throughout the city. Rockville's strong job market is also where some of the top companies in the country source talent. Additionally, families consider the city as a top choice due to its quiet neighborhoods and excellent schools.
Whether you're exploring homes for sale in Rockville, MD, or simply getting to know the city better, you'll find everything you need to know in this community guide.
Location and Local Economy
With a population of over 67,000, Rockville is one of Maryland's largest suburban communities. The city is located about 16 miles or a 30-minute drive away from Washington, D.C. To the city's south lies the Potomac River. Creeks border Rockville to the north, the biggest being Rock Creek, which is also the city's namesake. Croydon Creek, where you'll find a 120-acre forest reserve, is within the area as well. With several hiking trails, parks, and open meadow areas within and around Rockville, you have a city where nature blends exceptionally well with top-tier urban amenities.
Rockville is the seat of Montgomery County, the most populous county in Maryland. Together with its neighbors, Gaithersburg and Bethesda, these three areas form the nucleus of the Interstate 270 Tech Corridor. Several cutting-edge biotechnology and software companies have offices here and are key stakeholders in Montgomery County's economy.
Rockville is connected to the rest of the country by I-270. It joins I-495 and I-370, giving you access to other localities and cities further south, east, or north. If you prefer taking public transport, Rockville has extensive bus routes and is served by two Metrorail stations on the Red Line that run through D.C: Rockville and Twinbrook Station.
The climate in Rockville
Rockville has a humid subtropical climate, a common feature of lower East Coast states. Hot, humid summers and relatively mild winters are to be expected. This type of climate system has played an important role in the city's early development as an agricultural town.
The hottest months for Rockville are July and August when temperatures often reach 84℉. Meanwhile, May, June, and September are typically the best months to experience more comfortable temperatures.
The coldest months are January and February. The city receives 42 inches of rain annually. Meanwhile, an average of 18 inches of snow per year makes landfall in Rockville, which is less than the national average of 28 inches.
Cost of living and employment
Rockville can be an expensive city to live in. Homes for sale in Rockville fetch higher prices and frequent high demand often makes the real estate market competitive. If you're planning to buy a home in the city, expect to pay around $258 per square foot. In addition, household bills and daily expenses (e.g. meals, groceries, utilities, transportation) are relatively higher in Rockville compared to other cities.
However, Rockville more than makes up for the high cost of living with an impressive median household income of $106,576 as of the latest census data from 2020. This is significantly higher than the national average of $68,703. Furthermore, Rockville has a thriving job market and economy. Professionals enjoy high salaries in a number of lucrative sectors such as finance, health, education, information technology, and federal and local government.
Overview of Homes for Sale in Rockville, MD
Rockville has a plethora of housing options for prospective buyers. From spacious apartments and single-family homes to luxury townhomes and expansive estates, you'll find a good mix of properties that will suit a wide variety of tastes. The majority of the existing housing stock was built between the 1970s and the late 1990s — consisting of single-family homes and apartment complexes.
Home prices usually range from $400,000 to well over $1 million. In terms of square footage, homebuyers often pay well over $700 per square foot. Buyers going for studio-type apartments or other smaller homes will typically find properties within the $120,000 to $260,000 range. In addition, 60% of homes are homeowner occupied and the rest are rented out.
The Best Rockville, MD, Neighborhoods to Consider
Twinbrook
Quiet and easy-going Twinbrook offers the prospective buyer a cozy and neighborly atmosphere. With tree-lined streets and a minimal level of traffic, this neighborhood is perfect for those seeking a quiet refuge from the hustle and bustle of city life. But that's not to say there are few urban amenities nearby.
Within the community there's a slew of supermarkets, cafes, and restaurants typically within walking distance from each other. Plus, public parks and recreational centers provide plenty of space to engage in outdoor exercises and activities.
Twinbrook is one of the oldest neighborhoods in Rockville. About 70% of housing units are occupied by homeowners. The housing stock is usually composed of three or four-bed single-family homes and townhomes, many of which were built before the 1960s.
Town Center
Town Center is another neighborhood that's ideal for those who enjoy tranquility and lots of green space. Although homes that are close to the Amtrak rail line may hear some occasional noise, Town Center is generally a quiet and peaceful neighborhood. Gyms, retail stores, and groceries are all within easy reach in the community. Public parks like Welsh Park and Kinship Park are some of the nearby outdoor areas that residents frequent.
Town Center is also one of the more vibrant communities in the city. Rockville Town Square, which is situated in the heart of the neighborhood, has several shops and events that consistently generate buzz and excitement in the neighborhood.
The majority of the housing stock in Town Center is composed of large apartments. The rest are usually relatively smaller apartment units and single-family homes. About 60% of the neighborhood is occupied by renters.
Woodley Gardens
Woodley Gardens has the notable distinction of being the first-ever planned community in Montgomery County. As one of the oldest neighborhoods in Rockville, Woodley Gardens is known for its Colonial-style brick houses and apartments. Although most houses in the neighborhood were built during pre-1960s to 1970s, many have undergone key updates and renovations.
Spacious lots and plenty of trees provide a high degree of privacy and seclusion that makes Woodley Gardens one of the most sought-after communities in the city. Amenities like the clubhouse, swimming pool, and Woodley Gardens Park give the community a veritable country club feel. Many long-time homeowners still live in Woodley Gardens and help keep the neighborly spirit alive and well within the community.
Rockshire
Developed in the early 1970s, Rockshire is one of the largest planned communities with a homeowners association in Rockville. Best known for its proximity to several public parks, schools, and a golf country club, the neighborhood is great for families of various sizes. In addition, Rockshire has a number of community amenities that are only accessible to homeowners: tennis courts, playgrounds, a six-lane swimming pool, and a large community meeting room.
Similar to other neighborhoods in the city, Rockshire mostly has single-family homes and townhomes. Plus, it's in proximity to some of the best schools in the city and county, including Robert Frost Middle School and Thomas S. Wootton High School. For prospective buyers that are looking for a big neighborhoodwith access to all the essential amenities and a handful of top-tier schools, Rockshire is an easy choice.
Rockville is great for families who place a high priority on educational options in and around the neighborhood. Some of the best schools in Rockville include:
– With over 2,300 students in grades 9-12, Thomas S. Wootton High School has been recognized as a Blue Ribbon School and one of the Washington Post's Top 100 High Schools in the US. In addition, students are known to excel in various sports like swimming, lacrosse, and tennis.
– One of the top-rated public high schools in Maryland with a graduation rate of over 95%. Walter Johnson provides both a welcoming environment and challenging curriculum to help prepare young students for the rigors of college life.
– The prestigious John Hopkins University has several satellite campuses branching out from its home base of Baltimore. Most enrollees in JHU-MCC are working professionals taking up part-time degrees and certificate programs. The campus's Osher Life Learning Institute is well-known for enrolling retired and semi-retired adults.
A Brief History of Rockville, MD
Long before modern homes were put up for sale in the city, Rockville was once a community known only for a tavern and jail. The city's beginnings date all the way back to the Revolutionary era. Since then, Rockville has undergone many changes.
Rockville began as a small patch of land during colonial times. Community members and passersby would frequently refer to it as Hungerford's Tavern, which was a well-known establishment in the area. Owing to its ideal climate for agriculture, farms were a fairly common sight throughout town.
In 1776, one year into the Revolutionary War, an idea was pushed to carve up a significant portion of Frederick County into three new counties. One of them would be called Montgomery County— named after Major General Richard Montgomery of the Continental Army. Rockville became the seat of this fledgling county and locals began referring to the area as Montgomery Court House.
Later on during the 1780s, residents started calling the small community Williamsburg in honor of the family that began subdividing several parts of the young town.
Path to modernity
In 1801, Williamsburg was renamed Rockville. A beautiful creek nearby called Rock Creek was the inspiration for this final change of name. After the population increased to around 400 residents, Rockville would be officially incorporated in 1860, kickstarting the town's path to modernity and further development.
Trade and commerce grew in the years after the completion of the Baltimore and Ohio Railroad in 1873. This new railroad service connected Rockville to the rapidly developing District of Columbia and became a catalyst for gradual expansion of city borders. By the 1940s, Rockville had over 2,000 residents.
The post-World War II era brought an unprecedented population boom. More residential areas were created to accommodate nearly 7,000 residents in the 1950s. By 1980, Rockville was nearing the 45,000 population mark. As a result, more businesses began to flourish and big companies started establishing their respective offices and headquarters within the city.
Today, Rockville is a thriving, cosmopolitan city. As agricultural farms gave way to residential neighborhoods and commercial centers, the city became a center of business, education, and technology.
Historic Places in Rockville
Montgomery County Courthouse Historic District
– This area is a remnant of Rockville's early commercial and government center. There are two old county courthouses that still stand today: an 1891 Romanesque Revival building and a 1931 Neo-Classical granite structure.
Beall-Dawson House
– This 2.5 story Federal-style home was built around 1815. It was formerly the home of a prominent court clerk named Upton Beall. Together with his wife and three daughters, Beall lived in the house for over 10 years until his death in 1827. Beall's daughters would continue occupying the home until their passing. Ownership eventually transferred to their Somervell-Dawson relatives.
Top Attractions in Rockville, MD
Rockville is a vibrant city known for its outdoor attractions and excellent restaurant scene. Check out some of the must-visit attractions and must-try restaurants below.
Green spaces:
Must-visit restaurants:
Explore ore of Rockville, MD, with Judith Martin
Discover more homes for sale in Rockville, MD, with a proven agent by your side. With Judith Martin, rest assured your real estate interests will be fully represented.
For over three decades, Judy has helped countless families buy and sell their homes for the best value possible in the shortest amount of time. Many past clients continue to seek out her real estate expertise in communities within Rockville, Gaithersburg, and Bethesda— a testament to Judy's commitment to cultivating long-lasting relationships.
For the best results during your home search, seek out the proven knowledge and expertise of Judy Martin. You can reach out to her by calling 301.379.1700 or sending an email to [email protected].